New features include comprehensive breast imaging package with new transducers and scanning features, plus Fusion, Navigation and Needle Guidance technology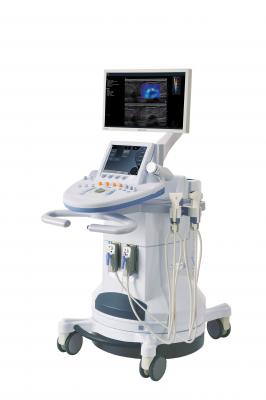 October 28, 2016 — SuperSonic Imagine presented the new version of Aixplorer for the first time at Journées Françaises de Radiologie (JFR) in Paris, Oct. 14-17. The newly released upgrade to Aixplorer, the UltraFast ultrasound system, enhances performance, workflow and efficiency while adding new features.
Key features demonstrated included the new TriVu real-time simultaneous mode with B-mode, ShearWave Elastography (SWE) and color flow imaging, a feature that offers simultaneous real-time visualization of anatomy, flow and tissue stiffness. All three features are part of a new comprehensive breast imaging package, which also includes new probes designed especially for breast imaging.
Claudia Kurtz, M.D., of Lucerne Cantonal Hospital - Breast Diagnostics in Switzerland said, "Aixplorer's latest version shows advancement in several respects. First, the new 18 MHz probe provides substantially better B-mode image quality allowing to better describe the breast lesion's margin. Also, it is now possible to simultaneously view tissue stiffness with Shearwave with Color Doppler in real time, quite an improvement in workflow. The Color mode on its own has also been enhanced, thus being able to visualize even smaller vessels. Overall, with these impressive advancements, breast lesions can now be more quickly and easily assessed without the need of time-consuming conventional ultrasound techniques."
In addition to TriVu and the new breast package, the Aixplorer upgrade also allows physicians to use the Angio PL.U.S. (PLanewave UltraSensitive Imaging) feature for abdominal, vascular and gynecologic applications, in addition to its original uses for breast, thyroid and musculoskeletal. Angio PL.U.S. Doppler has advanced color sensitivity and spatial resolution as well as exceptional 2-D imaging, according to SuperSonic Imagine. Also, there is a new research package that helps physicians perform pre-clinical or clinical research with exclusive modes such as SWE.
For the first time, SSI also demonstrated to JFR attendees its Fusion, Navigation & Needle Guidance technology, which is still pending CE Mark and U.S. Food and Drug Administration (FDA) 510(k) clearance. Aixplorer's new fusion and navigation features enable users to fuse real-time ultrasound images with magnetic resonance imaging (MRI), computed tomography (CT), positron emission tomography (PET) and 3-D ultrasound, as well as with other exclusive Aixplorer modes. This combined visualization is designed to leverage the simultaneous real-time benefits of multiple modalities for exams in complex cases, as well as for interventional imaging such as biopsy guidance or therapy such as radiofrequency (RF) ablation.
The TriVu mode and Fusion, Navigation & Needle Guidance technology are still pending U.S. Food and Drug Administration (FDA) 510(k) clearance. TriVu mode is also still pending CE mark.
For more information: www.supersonicimagine.com
Sponsored by International Ultrasound Services Ltd private ultrasound scans